Regular price
$34.99 USD
Sale price
$29.99 USD
Unit price
per
Sale
Sold out
✅Superior Quality Materials
✅ Detailed Artwork = Stunning Results
✅Free Worldwide Shipping
🔥 Buy 1 Get 1 50% OFF ! No Code Needed 📦 Free Shipping !!!
Share
Your Trusted Source For Paint By Number Kits

Artist By Number has quickly become a trusted name in the art community. Our commitment to quality, innovation, and customer satisfaction sets us apart from the competition. We continuously strive to improve our products and expand our collection, staying up-to-date with the latest trends and techniques in the art world.
Choosing The Right Pet Photo

Selecting the right photo for a custom pet paint by number is key to creating a beautiful and accurate representation of your furry friend. Here are some tips to help you choose the perfect photo:

Clear and High-Quality Image: Start with a clear, high-resolution photo. This will ensure that all the details of your pet are captured accurately.
Focus and Clarity: Ensure that the photo is sharp, well-focused, and free from blurriness or distortion. This will make it easier to identify and paint the details.
Good Lighting: Choose a photo with good lighting. Natural light is often the best, as it brings out the true colors and details of your pet's fur and features.
Close-Up Shot: Opt for a close-up shot that captures your pet's face and features in detail. This will make it easier to paint the finer details.
Background: A simple and uncluttered background is ideal. This helps keep the focus on your pet and makes it easier to separate them from the background when painting.
Natural Expression: Choose a photo where your pet's expression reflects their personality. A happy, relaxed, or characteristic expression can add a lot of charm to the painting.
Match the Canvas Size: If you've already chosen a canvas size, try to match the proportions of the canvas with the dimensions of the photo. This will help prevent any stretching or distortion when transferring the image.
Color Balance: Make sure the colors in the photo are true to your pet's actual colors. This will ensure an accurate representation in the painting.
Multiple Photos: If you're torn between a few different photos, consider using them all. You can create a collage or incorporate elements from multiple photos for a unique composition.
Personal Connection: If you have a specific memory or moment captured in a photo that holds special meaning, consider using that image.

Remember, the goal is to capture the essence and personality of your pet in the painting. Choose a photo that resonates with you and brings joy to the process. Happy painting!
What is included in my kit ?

Your kit includes everything you need to complete your Paint by Number :

🔹 Finely Woven Superior Cotton Blend Canvas

🔹Pre-mixed Premium Paint Kit

🔹3x Artist Brushes

🔹Color Print Guide

🔹Reference Guide
Shipping Information

📦 Preparation time: 10 business days (production & packing).
🚀 Shipping time: 20 business days
View full details
Transform Your Pet's Photo Into a Paint By Number Canvas
Discover the art of capturing your pet's essence with our remarkable paint by numbers kit. Turn an ordinary pet photo into a stunning masterpiece that will captivate all who lay eyes on it. Whether you're creating a custom gift for your family or helping a friend preserve their pet's memory, our custom paint by number pet photo kit ensures a professional finish every time. Frame your pet's image with pride and create an everlasting tribute to their unique spirit.
Complimentary Shipping | Abundance of Paints | Excellent Customer Assistance | A Revered Memento of Your Beloved Pet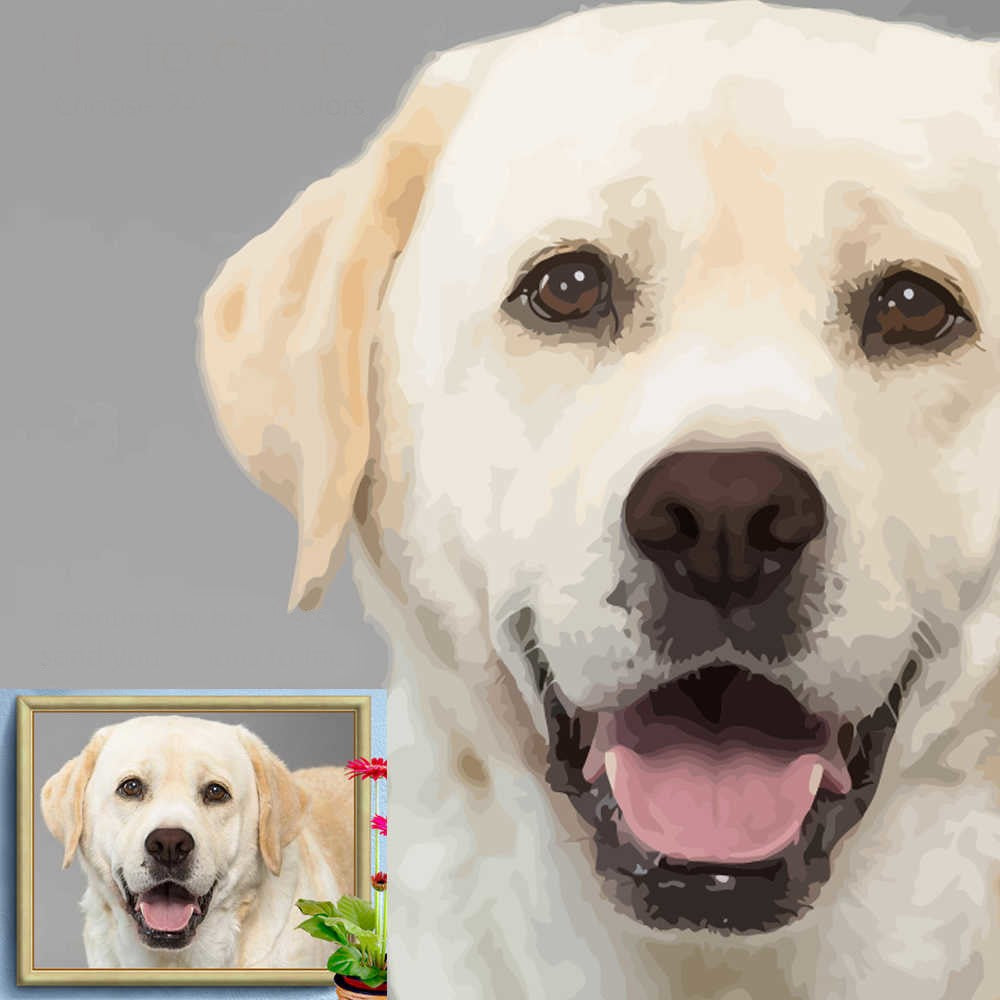 Reflect and Remember
Take a moment to reflect on the process and the memories associated with your pet. This painting is a beautiful tribute to their presence in your life.Remember, the most important thing is to enjoy the process and let your emotions guide your painting. Your artwork will be a lasting tribute to the love and companionship your pet provided.
Brushes Designed Specifically for Your Pet Paint Kit
You will receive three brushes with your custom paint by number pet kit. These brushes are essential for achieving intricate details in your pet paint by number kit. The smaller brushes are specifically designed for working on smaller and more detailed parts of your painting, while the larger brushes will assist you in applying colors to larger areas. Keeping your brushes clean between colors is effortless with a simple rinse using water.
Paint by Number Pet
Transform your beloved pet's photo into a masterpiece with our Custom Pet Portrait Paint by Number Kit! This kit includes everything you need to create a stunning, lifelike painting of your furry friend.
Key Features:
: Upload a photo of your pet, and we'll convert it into a paint by number Canvas. Every detail captured, every fur shade replicated!

: Our kit comes with professional-grade acrylic paints, a premium canvas, and high-quality brushes for a flawless finish.

: Each section is labeled with a number corresponding to a specific color. Perfect for beginners and experienced artists alike.

: Capture the essence of your pet in a unique piece of art. It's a wonderful gift for pet lovers or a cherished addition to your home decor.

: Choose from different canvas sizes to suit your preference and space requirements.

FAQ

See all of your questions answered about your paint by number kits from Artist By Number.

Learn More

Shop All Paint By Number Collections

Are you interested in browsing through our entire collection of paint by number kits? Explore all of our collections.

Shop More